construction hoist spare parts saj series anti-fall safety device for sale
Product Description
---
A .Construction lifts can be safely carried by the carrier, mainly because it is equipped with anti-fall safety device, greatly improving the safety factor. At present, the construction site is widely used in the rack and pinion drive dual-use construction of the lift is generally equipped with a gear cone-shaped progressive anti-fall safety device.
The main components of the gear-type tapered progressive-type anti-fall safety device are gears, centrifugal speed limiters and tapered drum brakes.
The working principle of the gear cone-shaped progressive anti-fall safety device is that when the operating speed of the protection target (construction lift cage) reaches the calibrated speed, the centrifugal speed limiter is displaced (equivalent to the pawl ), The taper drum (rather ratchet) moves to the brake belt, contacts and produces the braking torque, and the disc spring group is compressed to measure the amount of compression, by calculating the braking distance at which the rated braking load can be determined.
B.SAJ40 Safety device for elevator construction, passenger hoist SC200/200 Safety device saj40-1.2
SAJ serials pinion and cone progressive safety device is the most important safety device in the pinion and rack builder's hoist, which can prevent the cage running over speed, and effectively reduce the cage dropping accident. Is the most important safety equipment on the rack and pinion construction building elevator. It can limit the cage speeding downward, so can prevent the cage falling accident.
The safety device is the most optimal fall arrestor, which restricts the excessive downward movement of the cage and prevents cage falling accidents, makes the device absolutely reliable. It is anti-dropping protection device, and in case the hoist cage falls, it may ensure safety and reliability of personnel and material .
Application occasions: SAJ serials pinion and cone progressive safety devices are used in wire rope hoist ,hydraulic hoist and rack and pinion hoist. The following introduces the applications of all kinds of series of safety device :SAJ02-1.2 and SAJ08-1.2 safety device mainly used in small rack and pinion hoist ,such as wind power tower hoist ;SAJ30-0.5is used in ultra-low speed of safety device ,such as lifting platforms; Customers can choose the type of saft devices according to hoist rated lifting speed and load. Tripping Speed of safety devices is no more than 0.4m/s of the hoist's rated speed. The production of this product conforms to EN12159, EN12158, EN1495, GB26557-2011, JG121-2000.The reason can be safely lift construction manned loading operation, mainly due to its anti-fall safety device is equipped, greatly improving the safety factor. At present, the construction site is widely used rack and pinion construction hoist people generally equipped with dual-use goods is tapered drum gear progressive anti-fall safety device.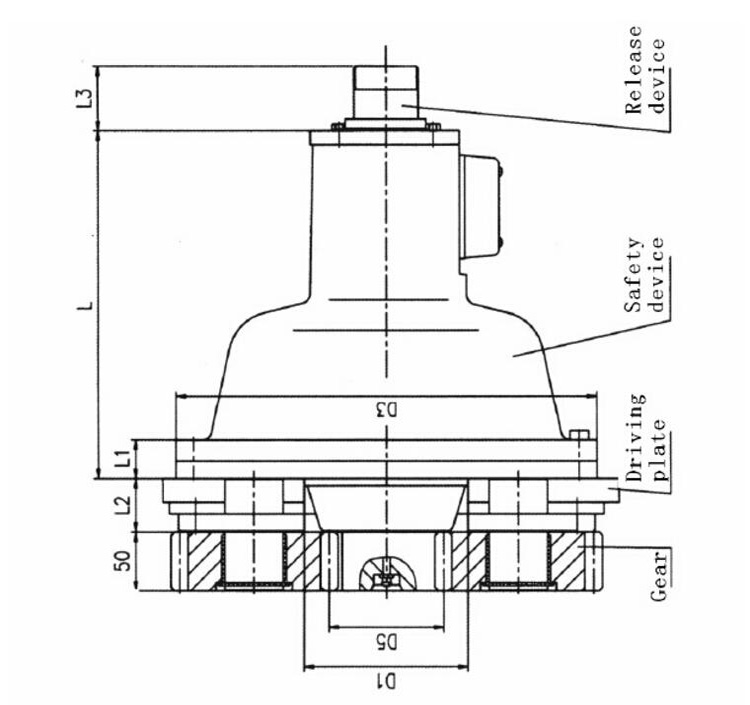 C.SAJ40 Safety device for elevator construction, passenger hoist SC200/200 Safety device saj40-1.2
Main technical performance parameters and installation dimensions 

Model

SAJ30-1.2

SAJ30-1.2A

SAJ30-1.4

SAJ30-1.6

SAJ40-1.2A

SAJ40-2.0

SAJ50-1.2

SAJ50-2.0

SAJ60-2.0

Rated braking load  KN

30

30

30

30

40

40

50

50

60

Rated braking speed  m/s

1.2

1.2

1.4

1.6

1.2

2.0

1.2

2.0

2.0

Tripping Speed

according to hoist rated lifting speed and user requirements
D.Cautions
1. During safety device operation, Lubricating grease should be filled into the oilcup placed on the pinion shaft end once a week, the grease type should be No.2 calcic-base one based on GB491-87. Furthermore, when using SAJ40-2.0,SAJ50-1.2, SAJ50-2.0 or SAJ60-2.0 safety device, gease should be filled through6oil hole on support shaft edge to lubricate transmission pinion bears.
2. No matter the usage status, the safety device should be inspected annually. Onlyin valid qualified inspection period could the safety device be put into used.
3. The user is not allowed to open lead seal of safety device without permission, otherwise the manufacturer would not take any responsibilities for any accidents.
4. The product guarantee period is one year.
5. Manufacturer only takes the responsibility of transmission pinions' quality. The bear wearing and working noise caused by improper installation and operation are not guaranteed to be serviced by manufacturer.
6. Special attention: without permission, the user could not adjust the location of position limited structure and ping 4 in fig.2 of safety device. After safe device taking action during hoist operation the activation causes should be investigated, and the safety device could be reused only after all the faults are fixed and safety device recovered based on the above instructions. It is strictly forbidden that safety device keep operation without correct recovery after action.
SAJ40 Safety device for elevator construction, passenger hoist SC200/200 Safety device saj40-1.2
E Recovery of the safety device:
SAJ40 Safety device for elevator construction, passenger hoist SC200/200 Safety device saj40-1.2. Except for drop test, if the safety device braking happens, before recovery operation the safety device action reason should firstly be investigated, at the same time the followings should be identified.
1) Whether the brake works normally.
2) Whether the turbine pair and the coupling work normally.
3) Whether the guide rolling wheel and support rolling wheels work normally.
4) Whether pinion and the rack work normally.
5) Whether position limited structure on the safety device work normally (when inspection the electric circuit should be switched off).
Our services
---
1.Customized service.
We can do all special design according to yourrequirement
2.Welcome visit our factory, learn about our factory and products.
3.24 hours on line or phone , technical support
After sale service:
1.The seller will send one of her professional technicians to the site of buyer toguide the erecting work.
2.12(twelve)months (except for wire rope and AC contactor) after the equipment be well erected and we will offer spare parts whole year long.
3.Life long time freely provide technical support.
FAQ:
---
Q1:Whether you can provide customized products?
A1:Yes.We are hi-tech enterprise affiliated to China Academy of Building Research.We have a group of engineers, who have title of professor , senior engineer and engineer.We can give you special design as per the drawings of your building, helping you solve different problems faced in your projects.
Q2:Whether customized products takes a very long time to design and manufacture?
A2:Not exactly.Normally for us, some amendment in design to adapt your requirement will take one week.So even for your special project, it will be about 30-40 days delivery time.
Q3:What is the brand of your key components?
A3:Motor:Sanshang from Shangai, Gearbox:Xingxiang from Nantong, Inverter:Zhengxuan from Shenzhen and ABB or Schneider can also be choosed.
Other electrical components:Schneider or Simens
Automatic laning system:Weikong of Jinan for construction hoist
Q4:What kind of services you can provide?
A4:We are dealing with construction machinery for about 20 year.High quality is our advantage, and high technology is our core competency.We ensure that all the machine have been completely tested in our factory before delivery.We will give you one year warranty for complete machine.For problems caused by our production defect, we will provide you free services by sending skilled engineer there.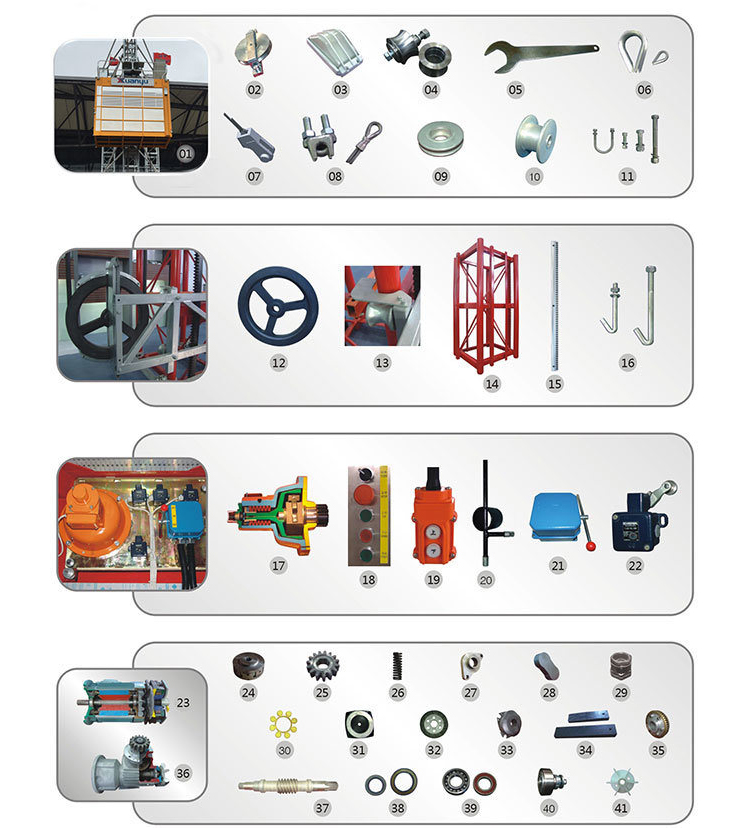 Quick Details
---
Condition: New
Place of Origin: shanghai, China (Mainland)
Model Number: SAJ40
Rated Loading Capacity(kg): 2000kg
Hoisting Speed: 33m/min
Max Lifting Height: 200m
Dimension(L*W*H): 3m*1.5m*2.5m
Loder Weight: 3 T
After-sales Service Provided: Engineers available to service machinery overseas
Color: Orange
Type: Standard
Part name:Emergency Brake Lifting Equipment
Name: Constrction Hoist Safety Device
Application: Bulidings,Elevator and so on
Material: Steel
Rated braking: 0.5—-2.0 M/S
Cage: Double
Motor power: 2*3*11kw
Usage: Construction Enginering